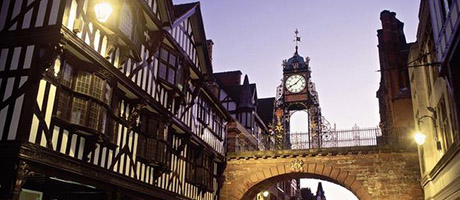 Chester Overview
---
Chester is located near the border between England and Wales and has a history dating back more than 2000 years. Chester use to be surrounded by a wall made of the local red sandstone, the wall was originally constructed by the Romans in 60AD with some of the wall still standing today. As well as the wall, there are several historic buildings that are still standing to this day, one famous historic building located in the heart of the city is the Chester Cathedral, built in 1541 it is a Church of England cathedral and the seat of the Bishop of Chester. To learn more about the city you will be living in, take a trip to the Grosvenor Museum where you will find out about life as a Chester citizen dating back more than 2000 years as well as all the wars, and development of this great city. The museum is free to enter but a donation of £3 is suggested. Exhibitions and events run all year round at the museum which make it the perfect place to visit to extend your knowledge as well as have fun. To explore the city as it stands today there are several different tours from walking to open top busses, both of these options include a guide who will tell you all about the history of the city.
Things to do in Chester
---
One thing Chester are famous for in the UK is, Chester Zoo, it's the largest zoo in the UK with a whopping 125 acres of land for the animals to run and play in. with over 21,000 animals and 500 different species no wonder it's the UK's most visited zoo and a must for anyone living locally. When you book online you will receive a 10% student discount which makes it an even better reason to visit. For those who enjoy something slightly more artsy and cultured then the Storyhouse is the perfect place for you, the building was renovated fairly recently and now boasts several different rooms, there is a; theatre, library, restaurant, two bars and a cinema. During the autumn and spring, the 800-seat auditorium shows a lot of international touring theatre companies, during the summer and Christmas months the theatre transforms into a 500-seat thrust stage and shows local productions. This is the perfect place to go with friends to watch a play, learn something new in the library or visit the 100-seat boutique independent cinema. If you enjoy shopping at great prices then head down to Cheshire Oaks Designer Outlet, here you will find high-class brands such as Gucci and Ralph Lauren offering items at discounted prices, some shops here you will be able to use your student card to receive a discount. There are a couple of shopping centres in the city which offer high-street brands as well as independent boutiques, all of this makes Chester a great place to go shopping.
Sport in Chester
---
There are over five leisure centres dotted around the city which are accompanied by the facilities offered by the university, this will mean you will be able to stay fit and healthy wherever you are in the city. There are lots of local parks with a wide range of facilities in each, some have free to use tennis courts and football pitches. Chester Golf club is a fantastic golf club with a well-known golf course in the golf community. Chester Racecourse is a popular venue for watching horse racing due to its great atmosphere and rich history.
Escape Chester
---
Roughly a 30-minute drive north will bring you to Liverpool which is known for its arts and culture as well as its shopping and nightlife which make it the perfect place to visit if you want to get away from Chester for the day. Chester is right on the border between England and Wales, if you travel into Wales and head west you will come across Snowdonia National Park which is an 823 square-mile park which includes remote villages, lakes and Mount Snowdon. Slightly further up than Liverpool is Manchester which is similar to Liverpool in respect to being a major city with a lot of activities.
Transport in Chester
---
From Chester you can get direct trains to Liverpool and Manchester which from there you can get direct trains to London and most major cities in the UK, similarly you can get national coach services from all of these cities. The M56 can be reached from the A-roads that lead from the city, from the M56 you will be able to access the national motorway network which will link you to most parts of the UK. There are a couple of airports close by which make it perfect for international students when they would like to visit home during school holidays.